Thickness Measurements of Hull Structures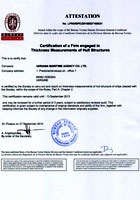 Our ultrasonic thickness gauging division can provide the following services:
Special , Annual and Intermediate Surveys
Class Entry Renewal Surveys
Voyage Surveys
Visual Inspection and Closeup Surveys
Steel Estimation and Dry Dock Specification Preparation
Pipeline Gauging
Protection Coating's Condition Surveys
In order for testing to be effective, high qualifications of personnel and high quality equipment are necessary - we guarantee both.
Inspectors have got documented qualifications confirmed by ship classification society.
Ultrasonic thickness measurements are being carried out in accordance with the standards of Classification Society and complying with its regulations.
Modern equipment from Krautkramer and Cygnus Companies is being applied. It allows to carry out the measurements without removal of coatings.
Surveys can be carried out worldwide: in Ports (during most cargo handling operations), in Shipyards (during-or prior to repairs) and at Sea during voyage.
Our trade-mark is prompt deliverance and professional service.
Measurement reports are provided in both electronic and paper version. They are drafted in accordance with the outlines of Classification Society, in a clear form, including sketches.