Lifting Appliances Examination & Repair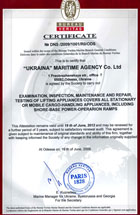 We had been approved by Bureau Veritas Register Quality Assurance in June 2009 for testing, maintenance and repair of all kinds of lifting appliances.
This attestation gives us the right to carry out the periodic examination and servicing of all stationary and mobile cargo handling appliances (including ship cranes, ramps, elevators, etc.) in accordance with IMO regulation (MSC.1/Circ.1206 SOLAS Chapter III).